barrels o' fun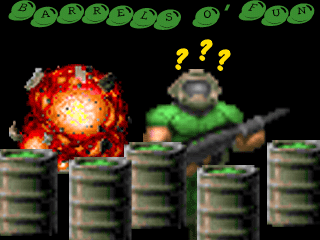 The idea came up, when I thought about a new map for Nutty" - a map, where players look like barrels. It must be interesting and funny, if players in deathmatch could pretend not to be a player but part of the decoration. However, Doom doesn't allow sprite replacements for one map only, so I couldn't realise this idea in Nutty.
On the other hand, I didn't feel like making a whole wad with several maps around one single gameplay idea. So, I decided to ask the community for help.
In the end, seven mappers have contributed 10 maps in total. Thanks for their participation and good work!